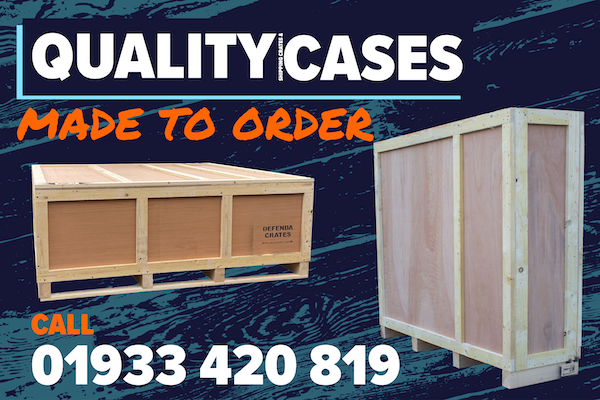 Need To Buy Wooden Crates & Wooden Shipping Cases in Wellingborough? We Produce Quality Custom Made Wooden Crates For Clients Wellingborough.
Defenda wooden crates Wellingborough. Our strong custom made wooden shipping cases, crates & open pallets are perfect for protecting goods being transported around the U.K. or exporting Internationally. We can quickly manufacture the exact sizes of cases & crates required for customers in Wellingborough & Northamptonshire.
Wooden Shipping Crates & Wooden Shipping Cases for Art or Machinery
Of course all of our strong timber packaging is ISPM 15 certified for when you need to export an item. So whether you need wooden cases & crates for art or other goods you've sold or heavy industrial machinery you need to transport – we can supply the perfect protective packaging solution.
Wooden Crates & Wooden Cases for Motorbikes, Cars & Other Vehicles
We regularly supply bespoke wooden packing cases for motorbikes & even classic cars to clients in Wellingborough & other towns in Northamptonshire: so whatever you plan to ship, we would be delighted to quote on heat treated wooden export crates & containers to protect your shipment.
Custm Made Wooden Packing Cases for Personal Possessions
Wooden crates & cases are also perfect for protecting your personal possessions during transit. So if you're emigrating or have a second home on the continent and want to safely ship personal possessions such as your large screen TV & furniture – then our wooden cases & crates will provide fantastic protection. They are all ISPM 15 certified & comply with IPPC regulations and are therefore perfect for export to all countries with import restrictions on wod or timber products.
Consolidated Shipping Service Once Your Case Has Been Packed
Why not also ask us to quote on your shipping? As a transport company & freight forwarder we can nearly always provide lower quotes on international deliveries. With our regular European & intercontinental shipments it may be possible to provide discounted groupage rates on LCL shipments.
We run dedicated vehicles including vans & heavy goods vehicles across the UK but also run dedicated vehicles into Europe – so if you require any point-to-point delivery to continental Europe / EU then we can handle that too.